I often think I'm a sniper, looking for that perfect shot of a great entertainer on stage and even when I think I've got it, I want more. My mission is not to destroy but to preserve. I shoot with the Nikon D-1X digital camera. There's a special kind of entertainer who will hopefully bring out the best in me but unlike the marksman with his rifle, the magic moment will come when she's at the top of her game, and I'm in perfect synchrony with her as she's working her magic on her audience. There's 18 feature entertainers performing at the Pure Talent Feature Showcase at Big Al's in Peoria, Illinois and it's three nights of non stop shooting for me. There's some ravishing beauties on the stage. A number of them have major titles, a matter of small consequence to me since I'm going all out for the perfect shots. It is the here and now that counts, not what happened last year, or even last week. One of them, is Aspen Reign, an excellent dancer, who blends an artful use of props with raw ability. It's a time for magic. For Aspen and some of the others, all the titles in the world merely make them contenders. The champion will etch permanent memory on everyone who sees her rise to the heights, to that very pinnacle-- the top of the mountain of the adult entertainment world as she captivates her audience and envelopes it into a Nirvanic oneness with her performance. I'm tired. I've already taken over 1500 pictures as I peer through my camera lens at the blonde entertainer on stage. Suddenly I'm besieged by a dazzling array of lights silhouetting the slender entertainer doing her water show. She's serene, lying on top of her bowl, her symmetrical form a perfect centerfold for any magazine. Then the music picks up. One moment she's sitting in her tub of water, then she's on her back-- her movements becoming progressively faster as she goes from one position to the next until she becomes a frenzied whirling dervish splashing water upon the stage and the customers in the front row. The tiredness goes away as the adrenaline hits me. The moment needs to be immortalized and preserved because it's not me, it's all Aspen Reign creating the adrenaline I'm feeling and which I'm undoubtedly sharing with every man and woman in the place. It all ends with her pyro show. A large number of features are doing pyro now, but there's pyro and there's Aspen Reign's pyro. I know the fire is throwing off the camera's sensor, but to preserve just part of it all would be quite an accomplishment. More than two months afterwards I'm still showing slide shows of Aspen's magic in clubs and still remember those kaleidoscopic moments in awe–perfectly as if it's all happening again. Aspen Reign is simply one of the finest artists of the stage today, one of the best of the very best. Xtreme asks me to interview her and there's little time to prepare. Will I accept the challenge? In a heartbeat.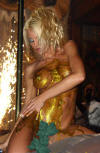 Xtreme: "You are a pure entertainer, Aspen. You never made a big name for yourself for doing adult movies. You did it all as far as I'm concerned by being one of the best stage performers ever What I mean by this is that on any given day you can beat anyone in a contest and by the same token the top entertainer you just beat might edge you out and perform better than you just because she's having a better day than you. Who else would you place in this same top category, Aspen?"
Aspen: "K.C. Cannons, Mercedes, and Loucy louvette. But I have done a few movies, just to up my booking rate."

Xtreme: "You claim Big Al's in Peoria, Illinois as your home club. How often do you perform there, not as a feature but as one of the house girls?"

Aspen: "I'm out on the road practically all the time now. I'm only there possibly one week a year."

Xtreme: "What do you like about Big Al's?"

Aspen: "His club has great atmosphere and he treats his girls good."

Xtreme: "From what I've seen, Big Al treats everybody good. How long has that place been there? It has to be an Illinois icon."

Aspen: "I think it's been there since the 1960's."

Xtreme: "You have your own Aspen Reign touring bus? How big is it and why do you have one?"

Aspen: "It's forty feet long. I use it because it's big enough to carry all my stuff and I can sleep in it when I'm out on the road."

Xtreme: "So you don't have to get motel rooms?"

Aspen: "No. I always get a motel room when I arrive where I'm scheduled to perform. It's only while traveling to my destination that I sleep in it."

Xtreme: "It has to be great for publicity too. You have to be making quite a statement when you arrive in that thing,"

Aspen: "I don't even have my name painted on it although my name does appear on the plates."

Xtreme: "Why not?"

Aspen Reign: "I like it just because I want to be different."

Xtreme: "Aspen, it seems to me that many features do fire shows now. I might see it five or six times a night while I'm shooting. But it all seems to be pretty much of the same. Then there's the way you do it. Yours is simply the best by far. It looks to me, and it shows up in my pictures that you have actually set fire along your entire body. How do you do it?"

Aspen: "When I first started doing it very few features were doing pyro. But once I started I think it became a wake up call for some of the girls to start doing pyro. And I don't set fire to myself at all. It's all an optical illusion. I lie in a ring of fire and the ring appears much closer to me than it actually is."

Xtreme: "It is spectacular however you do it. I've noticed that you don't do much with food. Many features put all this ice cream and cake and syrup all over themselves. For me, it's all the same old thing. How do you feel about that?"

Aspen: "I don't do much of it at feature showcases and contests although sometimes I'll do it at a booking. It can be fun but it gets kind of old. But I do a lot of water shows."

Xtreme: "Which you do spectacularly well by the way. Just a few days ago I was showing off your pictures to a bunch of entertainers in a club in my area. I was showing yours off simply because they are among the very best and they make me look good as a photographer."


I didn't think about it until after the interview. A lot of features not only throw lots of food on themselves, they also put a lot of paint on their bodies. So does Aspen, but here's the difference. While the others simply paint themselves in any color, at Big Al's Aspen painted herself a glittery golden color which accentuated her blonde hair. The effect was that of an ancient Greek Goddess, of an Athena, Goddess of war, wearing a golden breastplate. There's nothing hit or miss about it. The pictures show a very glamorous Aspen, stunning enough for an art museum. Although her performances only consumed fifteen minutes each night, I've spent a much greater time studying her pictures. Close study reveals a very talented and savvy entertainer who obviously spends a large amount of time getting the details right in her ever lasting search for perfection. There's nothing all that new about her water shows. Yet they are among the very best. She's got all the angles right with her fire shows knowing exactly what kind of illusion she wants to create. What she does isn't new at all. Most features do the pyro, the paint, the water shows, and the same basic dance performances but it's Aspen's perfect execution of what is very ordinary that elevates the mundane to an art form that takes her audience to the stratosphere.

Xtreme: "What are your career plans for this year and, say the next several, Aspen?


Aspen: "I will soon be competing for the Golden G-string award at the Gold Club in New Orleans. And I plan on getting into more movies, more mainline though. A few more with Mercedes. I will soon be shooting with Gloria Anne.

Xtreme: "I interviewed Gloria Anne on the phone. She's got a terrific sense of humor. But I haven't met her yet."

Aspen: "For now I'll continue to be on the road a lot and doing a lot of modeling. For "Flex Magazine" and various Muscular Development magazines for instance."

Xtreme: "What do you want to do when your career as a feature entertainer is over?"

Aspen: "I plan on owning a club."

Xtreme: "Really? Where?

Aspen: "A place not too far from home here in Central Illinois. I want to be close to my family."

Xtreme: "You would be an excellent club owner, Aspen. I want to visit the place you wind up owning."

And I meant it. Recalling Aspen talking to two young features in the dressing room at Big Al's who are just starting their careers, I remember her saying: "You two are new in this profession. You will find out it's not quite the way you expect it to be." I will remain silent on what she said, a secret I will leave behind in the room and with the other entertainers. I was struck my Aspen's openness and the good advice she gave. There are a handful of others in this profession who can equal her on the stage, but there isn't an entertainer alive who's her superior. This is as good as it gets. But even more tantalizing than Aspen drawing her audience into her web of cosmic entertainment oneness is the prospect of her as a future club owner. When an entertainer is so good and her attention to detail so meticulous to enable her to conjure up visions of a Norse heroine, a Brunnhilde, adorned in glittery golden paint as she sets fire to herself before the funeral pyre, there is nothing she can't accomplish. Her performances as a feature entertainer are nothing more than an illusion, but her prospective reign as a club owner should be long and filled with equal success as she continues her pursuit of excellence.