Alpha Productions Hall of Fame
The Hall of Fame is a 15 year digital collection of pictures and articles by Jack Corbett of the most
unforgettable feature entertainers, topless dancers, and strippers he met and photographed.
Note......both the write-ups and the pictures you find in the hall of fame were completed in times past, thus capturing a sense of the times and a mood that will possibly never be experienced again. For instance Renee the Great is no longer a bartender at Dollies and her father Hawk has been replaced as the club's general manager while Indiana Renee is no longer a dancer at Stimmelators, and Arianna a del is no longer a feature entertainer. So many memories, the mood now transformed as both clubs and the people who worked there move on to destinies unknown .
Time to take a stroll down memory lane.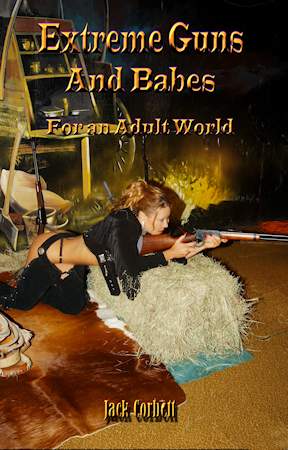 Fourteen of the 22 feature entertainers and topless club house dancers are in Extreme Guns and Babes for an Adult World, each of them posing with one of the featured guns. With 115 pictures of the babes and guns many of them being famous adult stars, there has never been a gun book like this. One of them was Miss Nude World, another M.S. Texas and still another Miss Nude Illinois. You can get yours in full color, the black and white edition or on your Kindle.