Are strip clubs better in the South? Big Daddys Gentlemens in Dixon, Missouri is a gentlemens club in every sense of the word. It is so good that it already deserves being placed up there with the best strip clubs in that country. It's a new place--in business for only several months so it's going to get a lot better. It's unpretentious, where the glitter of the glamour clubs is conspicuosly absent so at the risk of ruffling a few feathers while unraveling a few lessons other clubs can learn from, I'm going to let out a few secrets other clubs can hopefully learn from.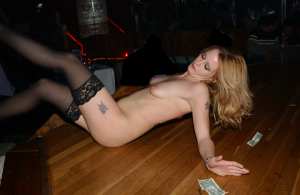 Dianna
If anyone cares to argue with me about Missouri being a Southern state, remember that Jesse and Frank James were Missourians still fighting for the Lost Cause seventeen years after Lee surrendered at Appomattox. And when Frank James surrendered to the Missouri courts after Bob Ford shot Jesse James in the back, he was acquitted after the courtroom had taken on the air of a farce when Confederate General Joseph O. Shelby, summoned as a character witness, was asked to identify Frank, called out, "Where is my old friend and comrade in arms? Ah, there I see him! Allow me, I wish to shake hands with my fellow sodier who fought by my side for Southern Rights!" In Missouri these guys were heroes. Get a few miles out of Saint Louis and and practically everyone's got a Southern accent.

Big Daddy and Skie
Big Daddy's must be on the highest hill on route 44 between St. Louis and Texas. 130 miles West of St Louis it's a beautiful drive and it gets better the closer you get to the club. And well worth the trip from whatever direction you come. Talk to a Saint Louis Metro East stripper about Missouri clubs and she's going to say, "They aren't much." That's because the clubs on the Illinois side of the Mississippi stay open practically all night long and enjoy a national reputation for being some of the wildest and most whooly places in the country while Saint Louis over on the Missouri side shuts down tighter than a clam after 1:30 a.m. But Big Daddy's isn't in St Louis and it stays open until 5 a.m.
Austin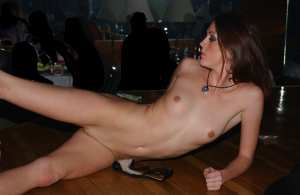 Two brothers own Big Daddy's, Paul and Terry. I met them at Regina's in Springfield, Missouri shooting a feature showcase for Pure Talent. Paul was General Manager. He DJ'ed at Regina's, came into the dressing room for the feature entertainers to explain the club's rules. THere was a dancer with me from the Metro East Clubs. We were both impressed by Paul, his brother Terry and the people working for them. I ran into Paul nearly a year later at Exotic Dancer's Expo in Las Vegas where he MCed the Pure Talent Feature Showcase. Paul told me he was starting his own club in Dixon, Missouri and would have his grand opening in two weeks and asked me to shoot his club. That was back in September of 2002. THere weren't many dancers working there that first week. I had just gotten a new Miata sportscar and when I pulled up to the club, Terry told me to park wherever I wanted. What I wanted was to drape dancers all over my car with a guy and I figured the guy should be Terry, but I didn't tell him my plans for him. "Go ahead and take up all the parking spaces you want," Terry told me. Before the night was over I had several girls all over that car with Terry in the middle of them. I shot pictures of Terry with several of the girls in the club's new hot tub. Most club owners aren't going to let you take pictures of them in situations some might find compromising, but Terry's not your typical club owner being a good sport all the way.
Several months later I got a call from Paul, asking me to shoot the club again. "The Honkey Tonk Man's going to be at my club," he told me.
"Who in the hell is the honkey tonk man," I thought. That's because I never watched wrestling on T.V.
I checked with the club the night before coming out. Rex called me back, asking me to be at the motel at 5 p.m. instead of coming to the club. Someone would meet me there from the club, Rex explained. I visualized taking pictures of a group of dancers at the motel after which I'd drive to the club to shoot girls on the stage.
I didn't see any dancers at the motel. One of the guys working for the club met me in the lobby. And then the Honky Tonk Man joined us. The three of us drove to a grade school. There were a bunch of kids in the school's gymnasium waiting to get the Honky Tonk Man's autograph. There were a coach or two with the kids. Right away I start taking pictures and some of them are going to the local paper.
One of the first things they tell club owners at Exotic Dancer's Seminars is to get more involved with their communities. If a club owner is perceived as a civic minded businessman, it's going to be much more difficult for him to be perceived as the Devil Incarnate selling Sodom and Gomorah. So here I am an adult photographer taking pictures of all these little kids with the Honky Tonk Man cutting up with them. The kids are really into it. The event's made their week.
The Honky Tonk Man's a pretty big guy but he's not all that big. In the truck going back to the motel he's pretty quiet. I ask him if he played the good guy or the bad guy when he wrestled on television. "I was usually the bad guy," he replies. I can just see it, television portraying him as a monster. But he's just an average kind of guy--someone you are likely to find sitting at the bar next to you. Some of us are just good actors and actresses, playing a role far different from what we are.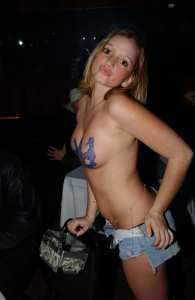 Carmen
We meet back at the club at 9 p.m. Big Daddy's provides a free shuttle service. The shuttle's driver is married to one of the waitresses. I've got my laptop set up on a little table between the club's bar and doorway to the parking lot. The driver has a CD on which he wants me to put the pictures which I'm going to take at midnight of him getting kayoed by the Honky Tonk Man. "The club is going to have a couple dancers oil wrestling and the Honky Tonk Man is going to judge the match," he explains. "After he gives the decision to one of them, I'm going to start raising hell about it, then I'll signal you, and that's when you need to be really on it because the Honky Tonk Man is going to bash me with his banjo."
The dancers have to sign releases. Anyone who doesn't isn't going to get her pictures taken. I've got around twenty releases with me, but I'll probably need more the way things are going. I hand Paul a few of the releases and he tells me he's going to take care of it. A few minutes later a couple of the waitresses join me at the bar where I have my attaché case open where I'll put the signed releases. First one, then the other. A few minutes later the first waitress comes back to join me at the bar. Each time a waitress comes back she's got at least several signed releases ready for me to put into the attaché case.
There's more than twenty girls dancing tonight which is almost three times as many as the first night I shot the club. One of the waitresses tells me, "We've got every girl on a release but one. She doesn't want to have her pictures taken. Everybody else does." She's smiling--obviously proud of herself and the other waitress for getting nearly every dancer to sign. As for me.....I didn't have to do a damn thing. I've got the laptop ready to show slide shows of the digital images I'll soon be getting. There's plenty of time to talk to dancers, club employees and a few customers. The waitresses do such a fantastic job that I don't even have to bother with putting the signed releases into the attache case.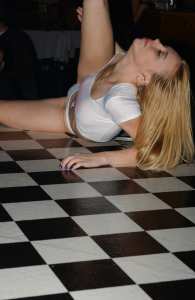 Most of the dancers are friendly right from the start. Although I had shot the club several months earlier, I only knew one of the girls working tonight. They are very interested in my laptop and how I can do slide shows of their pictures minutes after shooting them. One of them uses the stage name Skie. I make a big deal out of her name since one of my great dancer friends from the Metro East Clubs called herself Skie and had been my photographer's assistant while traveling with me to the East Coast where I shot a Pure Talent Feature Showcase. I showed Missouri Skie's some of Illinois Skie's pictures on my laptop. Big Daddy's Skie is just 19, the same age Platinum Club's Skie was when I first met her. Both girls are blonde. Like the Skie I had gotten to know pretty well, Skie's very cute.

Skie
This is a very tough photo shoot. There's over twenty dancers, and the only one I know off the get go is Dawn who had danced for Paul when he was General Manager of Regina's. I had done a photo shoot of Dawn in the motel room back in Springfield. Dawn's one of the real persistent ones, constantly coming back to my little table to view the latest pictures I've taken of her. It's impossible to keep track of who's who---which dancer goes with what stage name, yet it's imperative I keep track of them on my laptop. Skie comes to the rescue hanging around the laptop with me the most, helping me match stage names with pictures.
Dawn
The club has two stages going. Most of the time I'm shooting girls dancing on the larger one but I'm bouncing all over the places to take advantage of the best photographic opportunities presenting themselves. The club's DJ's make me a favorite target for their jibes, but they are good natured about it and it's all in good fun. The place gets very crowded with most of the customers being from the nearby Army base, Fort Leonard Wood.
An area's been set aside to the left of the room for the oil wrestling contests. One of the young soldiers is chosen to square off with two of the club's dancers. Shirt off, with the dancers wearing much less, he takes them on. Paul's explained to me that I should get on a closeby stage where it's less crowded and from which I can get my best shots.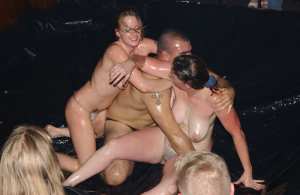 My newfound sidekick, Skie, joins me on top of the stage where a number of people are standing.
"I want to get a good shot of Paul," I explain to her. "Can you go down and molest him?"
She's game, climbing down off the stage to edge close to Paul. Now if she were like a lot of the Metro East dancers I know, she would have understood clearly what I meant when I used the term "Molest him". But Paul's her boss, so molestation is not part of her vocabulary--at least not in this instance.
The guy who's oil wrestled with the two dancers joins me back at my laptop. A few minutes later one of his buddies comes over to see what damages I've done with my camera. "There I am. I'm in that picture in the background," he exclaims. I get the soldier who had wrested the girls to sign a release which means that someday his pictures will probably wind up all over Fort Leonard Wood.
Around midnight I once again hear one of the DJ's harnanging me. By this time the Honkey Tonk Man has entered the club, milling around with everyone looking like Elvis Presley in his Elvis suit. The DJ's voice comes in loud and clear over the microphone. "Jack's not where he's supposed to be. He's sluffing off on the job with a blonde."
Sure enough, I've gotten too much into all the pictures I've taken on my laptop and once again it's Skie standing next to me. The stage where I'm going to shoot from has gotten a lot more crowded than when it was before. When I mount it I've got a lot more bodies standing around me than before. Two dancers are oiling themselves down, their skin recalling visions of sexual temptation gliding in Vaseline. Then they go at it with the Honkey Tonk Man right there with them looking like a bigger version of Elvis. After a few minutes of grasping each other and grabbling and rolling around the floor entwined one girl finally succeeds in pinning the other.
The Honkey Tonk Man's hovering over them pointing at the girl who's just pinned the other. Helping her to her feet he hoists her arm up into the air in victory. Suddenly dissension fills the air. The shuttle driver vehemently disagrees with the decision. The place is too noisy to hear what he's got to say, but he's going nuts, shaking his head and prancing around as if he's outraged and very pissed off. I put imagined words into my head: "You dumb fuck. She didn't win. I'm taking this to the President. I'll have you disbarred from the Elvis Society of look alikes, you sorry assed mannekin."
The driver takes it one step too far, getting a little too close to the Honkey Tonk Man who by this time has taken just too much of his sheep shit. The big guy takes a step forward. In a split second his banjo is crunching down on the driver's head. The driver cringes with the banjo just a foot above his medula oblatum, and that's when I take the picture. The timing couldn't be more perfect.
The ferocious blow puts the driver on the floor. Stretched out on his back he appears unconcious but everyone in the room is laughing. Hey, the guy's good. It all just goes to show that a bunch of people in a strip club can put on just as good a show as they do on T.V. wrassling.
I wind up missing the plastic snout on my big Nikon lense. It's on the floor, somewhere. I tell one of the waitresses and go around the club looking for it. I wind up empty but she's scurrying around looking for it and so is one of the other waitresses. Finally she finds it, on the floor next to the bar where I've got my attache case. Later, she tells me, you should have gotten us waitresses in a few shots together."
Damn right. Those waitresses were terrific. And so was that shuttle driver. The owers were great and so were all the other club's employees. When I'm on the road shooting clubs I usually get a warm reception. But there's something special about these Southern clubs or at least so far. They just go that extra mile. Consider that Big Daddy's is close to an Army base with 45,000 soldiers on board. Most of the club's clientelle are going to come off that base. If the club doesn't consistently treat these young men as welcome guests bad news is going to travel fast. These two brothers who own the place know how to have fun and have a sense of imparting that sense of fun to everyone around them.
Certain things are imperative to a club if it wants to be a number one kind of place. Having enough good looking personable entertainers is of critical importance. Big Daddys has that in its first few months of operation. Good service is paramount. The waitresses I encountered here are simply tops. Making a club's guests feel special is important. Here they make you feel like you are part of a big family. Lastly, a club needs to entertain. From what I've seen it's all good natured but outrageous fun. Just click on the following thumbnails and you will see what I mean.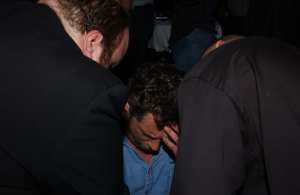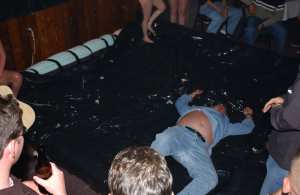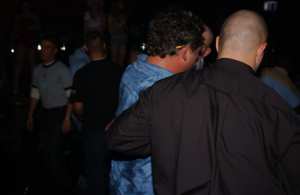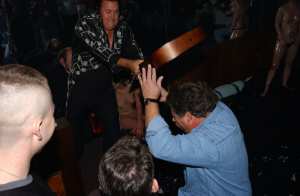 *****