A year has passed since the 2002 Pure Talent Feature Showcase at the Candy Store in Mobile, Alabama. From last year there are many memories of this place and this part of the country, all of them good. There was the great D.J., and a beautiful feature entertainer I hung around with, or hung around me. Then that last night at the motel all the features and I were staying at where I kept her roommate and her up all night. And that cute little blonde house dancer who did a photo shoot in my room who later moved away was unforgettable. But the best part is it's warm down there on the Gulf Coast because of the moderating effects of the Gulf on the Coastal land. The club was a great one, as friendly a place one will ever find. This time I knew most of the features who'd participate in the three day showcase, one of them having visited me at the Hangover Haven for a photo shoot for an Xtreme Magazine gun of the month article. At 1 a.m. I driving somewhere in Alabama and wondering where I'd motel it for the night, I thought about who I'd see again from last year working for the club. Would Brian still be the D.J.? And how about Joe, the club photographer, who was last year shooting with the Canon G-1 while I was using the G-2?
The next day I was run off the left lane of the interstate onto the shoulder of the road within 15 miles of Mobile. Driving my Dodge four wheel drive in the fast lane with something like three lands to my right I saw the Chevrolet pickup veer right into me. The guy must have been brain dead or on drugs which amounts to the same thing because he came right at me. I drove onto the left shoulder of the road at about seventy, and if I hadn't, the guy would have torpedoed his truck into mine. He was towing a car that he had coupled closely to his tailgate. Furious, I tried to get his licence number, driving eighty-five and ninety to catch up with him but his licence plate if he even had one was obscured by the car hanging from his truck's rear end.
I reached the motel earlier than expected around 2 p.m, and went into the office to get my room key.
"You are in a room with Arianna a del, the desk clerk told me as she handed me my key."
"They put me in with Arianna?" I exclaimed to myself. Arianna's from Louisville, KY, is a new girl with the agency, has a thick southern accent she delivers at the speed of a New Yorker ordering a plane ticket, and is one of the prettiest feature entertainers you will ever meet. She's also the feature who visited me with her roommate to do the photo shoot for Xtreme. "Hey–as long as I'm going to be put in a room with a feature entertainer, it might as well be one of the prettiest of the bunch."
My next thought was–"Where is Mike going to stay if I'm going to share a room with Arianna?"
After a few hours Arianna comes into the room, bedraggled and frustrated from the long drive from Louisville to Mobile. We head out for a bite to eat, then it's back in the room to get ready for the Meet and Greet, an informal get together in the club day before the main event starts which is 15 feature entertainers putting on their show each night to give visiting club owners a dose of what they can do. This will go from Thursday through Saturday nights. A feature who impresses a single club owner can get a booking for a solid month since many of the attending club owners own more than a single club, some of them sizeable chains.
We are on the third floor of the motel. Arianna's left her hair brush in her car. She asks me if I'll go down and get it for her, handing me her keys and telling me where it is. Gopher time. Do I look like I have buck teeth and a bushy tail. In her trunk I find the brush. But it's the ice breaker with the little brush on its end for brushing loose snow off windshields that has my attention. I hide the brush in my back pocket and head back to the room.
"Arianna. "I didn't find your hair brush but I found this," I said to her as I produced the ice breaker.
Then it's off to the club. Time for a few beers because I sure won't be able to drink many while I'm shooting pictures like mad the next three nights. I would have stayed at the club later but Arianna's taking this thing pretty seriously and wants to go back to the motel to get a good night's sleep. We are all in luck. Brian is still the club DJ.
Back in the room, I get online through the motel's phone line and show Arianna a few things on the web site. I have a few things to do. She wants to sleep, lies on her belly in the bed next to mine, and throws her pillow over the back of her head.
The next morning Pure Talent's owners, Anne Marie and Jim ask me to shoot promo of one of their new girls. I've got my portable background with me and set it up. After having breakfast together, which comes after making coffee in the room, Arianna tells me she wants a room to herself. For one thing, she can catch a couple hours of sleep in the afternoons and not be interrupted by my taking pictures of other girls in the room. Besides, I have to pick Mike up at the airport the next afternoon.
The girl I'm going to shoot and her husband aren't the only ones going in and out of the room. It's grand central station in there. Do a photo shoot and you create a magnet. I have two heavy stands set up on tripod bases. Between them straddles a ten foot crosspiece, a cylinder which I've threaded through the blue cloth background material. The cloth is ten feet wide and must be twenty feet long. Adjusting the two vertical uprights the crosspiece is mounted I get the background within an inch of the motel room's ceiling. We use part of the excessive length of the material to cover the bed so the model will have the blue color is his splashed with white to resemble clouds both behind and beneath her.
There's fifteen features taking their turns on the stage. Each girl performs to three selections played by the D.J. When she's done, another feature replaces her. Much of the time I'm shooting two features in a row and then it's two house dancers. When the house dancers take the stage I have to work feverishly, taking my flash memory card from my Nikon D-1 X and putting it into the pcma slot in my laptop. Since I shoot vertically most of the time, most of my pictures come out of the camera ninety degrees off. The first step is to copy or move the pictures from the camera card to the laptop's hard drive. Second step is to rotate most of the images 90 degrees to the left.
Sometimes Pure Talent will run four features in a row. I have to be on the ball and know what the hell is going on and be organized. As soon as the last feature's done, it's back to my spot in front of the stage where I have my laptop on a little shelf. There is a single electrical outlet that's close to the stage that I can use, and Brian, the D.J. has me plugged in. Several of the features want to see the pictures I've just shot of them, but if I shot them a slide show I'm not getting my new pictures downloaded onto the laptop and rotated. And that'll put me behind, which means I won't get the work done or be able to show the other girls their pictures.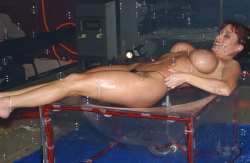 Brittany Love is the Master of Ceremonies. There are several small cocktail tables behind me where several of the Pure Talent girls are sitting. All of us are close to the D.J. booth and Brittany Love is either standing somewhere behind me speaking into the microphone or sitting at one of the tables. I've shot pictures of Brittany before at Nudes a Poppin. She's an extraordinary model before the camera. While doing a magazine article on her, I found her to be very dependable, sharp as a tack, and willing follow through on everything she's promised no matter what it takes. Besides–she's fun. No one should ever try taking anything away from her because she's earned her place in the sun.
Oftentimes, Cashmere, an attractive black feature, is sitting next to me wanting to see her pictures or ones I've just taken of other features. A couple features I've just met drop by to see where I'm at with their pictures. They aren't pushy but I can tell they want to see how they came out on my computer screen.
Darrell Ritter, a calm and dignified looking man is the club owner. Last year I never got the chance to talk to Darrell much. This year would turn out differently. I get it on the qt from Brian Darrel's all business. If a man doesn't do his job right which is usually because he's not taking it seriously, he's gone. But Darrell's the kind of man who appreciates competence from his employees I gather. Brian's very good at what he does but I knew that last year, and he's still the club's ace D.J.
Usually Darrell is within sight, calmly walking throughout the club or over at the bar talking with people. I don't think he misses much. Several times I have the opportunity to talk with him. He's an ex marine. Sometimes I talk to him about my gun articles and the weapons he trained on in the service.
Arriana's standing close by while I'm talking to Darrell. It's the first night. I don't remember how I introduced her to Darrell but I'm sure I made a big deal out of her. She springs forward, a pretty little elf of a girl, who'd charm the pants off of Muhammed himself. Darrell likes her from the get go, and who can blame him? I did.
There's three features here whose stage names all end in Love. Brittany Love is the M.C. Then there's Gina Love who performed a few times at Big Daddy's in Missouri, a new club whose owners I like very much. Big Daddy had Gina call me a few months ago. She was going to come over for a photo shoot, got as far as St Louis where she got involved shooting for some Internet web site developers who didn't do much for her with their camera work while causing her to run way behind on the shoot we had planned. We never did get together. But somehow, we had established some form of connection. From then on, here at the Candy Store we kept singling each other out. The third of the Love trio is Devon Love, a slender blonde who works as a house dancer for the Candy Store, who just went through the Pure Talent School of Dance and is just starting out as a feature.
For some reason I find Devon Love more than just a little appealing. She's cute and for a little house dancer first venturing forth as a feature she's one helluva dancer. She's the kind of girl I can spot off in a crowd, catch her eye, then wink at her and get a huge smile back. On the stage, she does little with props. She's had little experience putting on a show at this level, but she's high energy, excellent on the pole, and exciting to watch.
There's another photographer in the house. Actually there's two of them. By now Joe's made an appearance but he's left his camera behind. Charles Bracher has set up his equipment at the foot end of the long stage that ends at the opposite wall which is almost all mirrors. He has either his wife or his girlfriend with him. She's shooting video from a tripod while he's doing the still camera work. Charles turns in a lot of his stuff to Exotic Dancer Magazine. He's from Louisiana, perhaps a few hours from Mobile. Brian introduces him on the microphone as a photographer for Exotic Dancer.
I immediately head over to Charles who's glad to see me just as much as I'm glad to see him, a fellow photographer armed to the teeth. Charles is shooting with all Canon equipment. He's still shooting film but his equipment is top notch.
"I had a horrible photo shoot today," Charles tells me.
"How's that?" I reply.
"The gal must have overslept. She was four hours late for the photo shoot."
"Who was it?"
"I'd rather not say," Charles replied.
"Come on Charles. Professional courtesy. I might wind up shooting her someday and want to know what I can expect out of her."
"Okay. Alright then. It's so and so (I am leaving the girl's name out of this to protect both the guilty and we innocent adult photographers."
"Shit...shit...shit. I've met the girl and I like her. I'll have to keep an eye on her if I get anything going with her."
Where he's shooting from Charles is oftentimes more than twenty-five feet from the features. The stage over where I'm sitting is fairly broad. From there it narrows down extending to the opposite end where Charles has set up. At this opposite end it forms a T and continues at right angles in either direction. Charles can get some excellent shots over at his end, but only when the feature comes his way. It is hard to say what each girl will do. But he'd better have one helluva telephoto for a lense if she's doing most of her performance over at my end.
More than half of the time I'm camped out over at my end. The rest of the time I'm all over the place trying to get my best shots. When I compare myself to most of the adult photographers I've shot next to, I tend to move around the room a lot more, working harder for my shots. I don't know if that's what gets results or not. It's just my style. I've always been quick on my feet. Much of the time Joe's hanging out with me over at my end.
I'm really in tune with Arianna. From the first time we met at Big Al's we've both tried to keep track of each other, each of us anticipating where the other is going to be next. When a girl and a photographer can do that, great pictures should come out of this rapport. So it was with Lana Christine at the Candy Store last year. New with Pure Talent Lana had been in Playboy's Magazine of Lingerie. Lana had the uncommon gift of both performing for the club's customers and the photographer at the same time. Arianna, a younger version of Lana, showed the same gift. But there were other features here who were oblivious to the photographers. They'd walk away from me turning their backs just as I was boring down on them with my camera.
Joe and I compared notes on the camera unaware dancers. He then started a routine for me, holding a bill or two in front of the feature as he motioned her over. Speaking a few words to her he'd get her to turn around to face my camera, often putting his arm around her. This would often have a continued effect since from then on, the feature would remember that her pictures were being taken and that she'd wind up having mediocre pictures unless she started paying closer attention.
Joe now owned a Nikon D-100 Single lense reflex digital camera, which is a far better camera than the Canon G-1 he was using to shoot the club last year. But he was no longer the club photographer. Although he was welcome in the club, his camera wasn't. He'd sit there next to me having several beers discussing photography and dancers, a great sport about the whole thing.
The next day I picked Mike up at the Pensacola airport. And missed Arianna on national television. We would have watched her on T.V. together either in my room or hers, but as important as she is to me, friendship with an old friend is even more important. Mike had roomed with me at Nudes A Poppin and roomed with me again one week later at the Luxor during the Las Vegas Dancer convention. And not long ago we had roomed together again in Peoria when I covered the Big Al's Pure Talent Feature Showcase. We have known each other for years.
I'd have Mike with me the second and third nights of the Candy Store Feature Showcase. Having Mike there took some of the pressure off since he was a lot of the downloading to my laptop from my camera cards. At Nudes-A-Poppin we had stayed together at the Holiday Inn and had run into Darien Ross and her roommate the first day. The four of us had lunch together after the morning events were over at the Nudist Colony. The two women then followed us back to our motel where Darien posed with my 1861 Springfield Civil War rifle for an Extreme Gun of the Month article. After shooting in the room we found a dried up pond back of the motel and completed the photo shoot with Mike lying on his back in the pond bed. We had placed the 1861 Springfield across his chest with Mike pretending to be a dead Civil War soldier as a Naked concerned looking Darien kneeled over him.
Each night, Brian, announced on the microphone every feature's credits, which included television appearances, videos, and magazine publicity. Both Darien and Arianna had him cite their being in Xtreme Magazine, especially their appearances as models in my Gun of the Month articles.
During the second night's shooting I went back into the dressing room to check up on Darien and found her in a flamboyant getup wearing a mask. For the first time I noticed her navel. It was like none I had ever seen. Some men are breast men while others are ass or leg men and I had even heard about some guys having foot fetishes. I never thought of myself having a fetish. A tight ass and nice long legs and a trim stomach that get me every time. Darien's slender with a nice all around figure, but it's her belly button that really stood out as if it had been sculpted by a Michelangelo.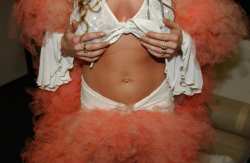 She was right where I wanted her, standing by herself in the dressing room waiting her turn to go on stage looking very beautiful. Putting my arm around her, I extended my camera in front of our faces and took several pictures without looking through a viewfinder or LCD display. But I had to get a picture of her navel without showing much else. I did while telling her it belonged in the Smithsonian Institute.
How do you put someone's belly button in the Smithsonian Institute? The idea is ludicrous. Yet Darien and I are on the same wave length as we laugh it up together thinking about the image of a disembodied navel lying in a display case.
On the stage, Darien's good about playing it up before the camera while still putting on a good show for the audience. Not Devon Love however.
The night before, I had captured Devon in a variety of great poses. And when she wasn't on the stage, I'd often shoot her sitting at a table in the audience or standing between several men or women. She's catch me doing it and break into a grin. That first night she had managed to get Darrell, who owned the club and was her boss to come over to the stage where she pulled her body all over him as she would with her customers. For a new girl, a house dancer, who had not featured yet, treating the owner, who was our host like a customer showed a lot of spunk. But tonight she seemed completely unaware of the camera. It was impossible to capture her looking my way. Finally I just muttered to myself, "Fuck it", strapped my camera back around my neck and went over to Carrie Bare and smoked a cigarette with her.
But Darien was one with her audience, or was she? At times my camera caught her with a smirk on her face. Other times she was laughing—laughing at someone as she lay on her stomach or back on the stage. As if everything was a joke and she was laughing at the audience or herself for being there in the first place. A few weeks later, I'd find out a lot more about Darien when she'd visit me for a photo shoot and wind up staying at Jack's Hangover Haven for several days. I didn't see it in her then, on the Candy Store stage–her being two different people, but don't be alarmed, a schizophrenic she's not. She's just ahead of her time, a sophisticated yet off the wall woman with an extraordinarily developed sense of humor.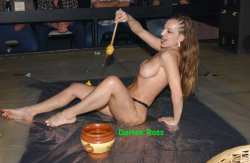 I really laid into Devon Love for avoiding my camera. It went something like this....."Devon, you are a very pretty girl but I just stopped taking pictures because you never looked my way. Sorry, but I just don't have much to show you on my laptop. You are not going to do this tomorrow, now are you?" The next night she would be a different Devon as far as the camera and her were concerned and would once again take a string of excellent pictures. I'll have to admit to liking this girl from the get go and I hope she makes a go of her new career as a feature. She has much to offer.
There was another house dancer from Mobile among the features but she worked at another club in town. She took good pictures, but off the stage she was with her own crowd. This crowd sat across the stage from where most of the Pure Talent features were hanging out. Who they were, I'd never find out. Her boyfriend and his friends? A club manager with several of the girls from her home club? Hanging with her cronies was stupid. Girls new at featuring need to get to know the other dancers they will be on the road with, meeting at contests, as well as adult industry photographers, other club owners, and other industry professionals who can help them in their new career.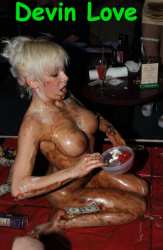 Arianna's a house dancer just starting out as a feature. I told Charles Bracher how exceptional a model I found her. Once I explained to Arianna who Charles was and what I told him, she wasted little time going over to him to introduce herself. That night plans were made for photo shoots at Darrel's house the next day. Arianna was to be one of the girls Charles planned on shooting. I had brought three rifles with me and made arrangements with three of the Pure Talent girls to shoot their pictures for magazine articles at Darrel's place. Since both Brittany Love and Gina Love were already going to model for Charles, they agreed to meet me at the owner's house. Tori Blake is the third girl I want to shoot with a rifle. Mike and I make arrangements to meet them in their room the next day and to drive them to the owner's house for the photo shoots.
Soon after returning to the motel room around 3 a.m., we hear a knock on the door. Mike and I will often have a beer or two together in the room before turning in. Our visitor turns out to be Darien.
Two hours later, I'm getting more than a little nervous. I don't get enough sleep at these events under the best of circumstances. Unlike most working a night shift schedule my internal clock still gets me up in the morning no matter how late I've gotten to sleep. And Darien's talking a blue streak. Will I eventually doze off around 8 a.m. and this time sleep through the early afternoon and not make it to Tori's room? Will we be late showing up for the other entertainers who will be meeting us at the owner's house? I shouldn't be thinking thoughts like that. If I do I'll never get to sleep. Eventually Darien goes back to her room. Somehow I manage to fall asleep.
To be continued.