Iowa and its neighboring state, Illinois, are best known as the world's leading. producers of corn, soybeans and hogs. But for three nights the Lumber Yard in Des Moines, Iowa will become the epicenter of the entire adult entertainment world, to completely contradict the stereotyped image of a rural and conservative Iowa.
There 's sixteen topless Pure Talent Agency feature entertainers performing at the Lumberyard Topless Club each night where club owners from other states will evaluate each show girl's performances.
to determine which features they will book in the coming months. For some of the entertainers a successful booking with a club chain can mean four weeks work. Top professional photographers representing more than a dozen adult publications will be shooting alongside me. The crowd has no forewarning that it is about to experience the finest showbiz the adult entertainment world has to offer--three nights of scintillating dancing, spectacular costumes, acting, and pulse throbbing fun.
The club is huge. This place can hold up to a thousand spectators with stages, seating, and standing room on three levels. Each stage has a stairway to the stage below it, making it easy for the entertainers to quickly get to each floor. One of the other photographers comments: "This is going to be a real nightmare for us to shoot since we will be trying to cover all three stages at the same time."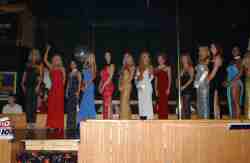 It is going to be impossible, especially later in the week when the place gets packed. There will be no excuses for poor shooting which puts us on equal footing with the feature entertainers, each striving to outdo everything she's done before. Each entertainer's real competition is herself, which as any true athlete knows is the toughest competition. Such is the mark of the real champions of this world, and these women are real pros, first class athletes, women who put in seventy hours a week of work dedicating themselves to their profession.
There will be no excuses for bad shooting even though I'll have to keep going night after night on little sleep. I have an unfair advantage over every other photographer there. Her name is Dirty Heather, and it will be her job to download all my pictures to my laptop computer, prepare the images for viewing, and to run slide shows of the pictures I've just taken for the features, club owners, and other industry professionals. Dirty Heather, a slender tallish striking blonde, who can outfight most males and females alike, yet remain a lady through and through until provoked, is the female version of Clint Eastwood's Harry Callahan-Dirty Harry movie character.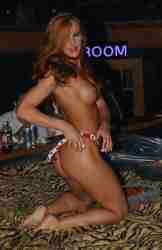 One of my favorite entertainers is Kelly Taylor, who was Exotic Dancer's Miss Maryland. On the pole she's a goddess of grace and poise, floating there, just begging me to capture her the way she deserves to be, as a model of perfection for the whole world to view in awe and admiration. She spins slowly, then stops, hanging motionlessly as the crowd gasps-stunned.
Non stop flashy dancing performances are turned in by two comely blondes, Carrie Bare and Natasha Stone.
On the last night, the M.C. announces that Leslie Wells has become ill, and cannot perform but Grandma Wells has agreed to take her granddaughter's place. Leslie, one of the most irreverently funny features on the circuit, is grandma, of course, who begins her performance as a perverted old bitty who walks with a cane, who later casts off her clothes to metamorphose into the seductive Leslie Wells.
For the first time I capture the fast moving exotic side of Amber Waves who I last saw at the Orchid Bar at last year's Exotic Dancer Expo while pretending to pass out across her lap while my sidekick shot our pictures. Jessica Justice looms from the top stage over the spectators below like the Goddess Venus bestowing her beauty on her worshipers before delivering one of the fastest moving dancing performances of the night.
Brandi Morgan and Brittany Banks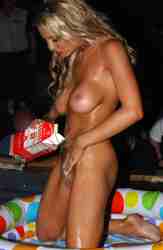 are two of the prettiest sex bombshells at the place, both blonde, tallish, and curvaceous in just the right places. It is nearly impossible to get bad pictures of Brandi. As for Brittany....I am looking forward to seeing a lot more of you later.
Lori Alexia is an awesome gymnast, walking on her hands and performing back flips. I feel like Wyatt Earp at the O.K. Corral trying to anticipate her next flip, reaching for my gun (Nikon D-1 X), and centering the camera on her in mid air as I trip the shutter.
That camera is greased lightning, fast and responsive, but it weighs 7 pounds. Bouncing around from level to level, jumping on chairs, prying the camera lense between customers to get the right angles on one stunning entertainer after the other on less than five hours of sleep each night is tiring.
But Heather and I have the situation handled. The Lumber Yard is a byob establishment that supplies huge buckets of ice to its customers . We have our stash of at least four cans of Red Bull next to us at all times. The energy drink really works.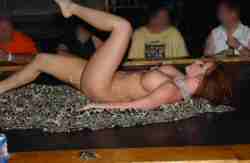 I've got Tori Blake in my sights, and tonight, the final night, is her most arousing performance. Through my lense, the Las Vegas showgirl is a kaleidoscope of fast moving reds and orange. "Concentrate now, Jack....is her face right? Get her...now.......a bit more".......she turns her head clear around as I snap off a shot..a nothing shot since it's the back of her head. She's down on the floor now, twisting and writhing. "Lead her...anticipate where she's going to be next." It's like shooting a rabbit on the run with a .22 only much harder. Everything has to be just right and the picture can go from great to garbage in an eighth of a second. The music's pumping me up. My target is a fast moving blur. The customer next to me has his elbow in front of the lens. "Shift position a few inches to his right...There...........start shooting." I trip the shutter three times in three seconds praying to get Tori just right because Tori deserves it.
They all do. Because they are terrific. The Aspen Reign show is about to begin. They've cut off the top two stages with a huge backdrop like they use in outdoor theaters. And they've got the lights out, and the pyro. They are going to pull out all the stops. Where are we...the Muny Opera? There's no place to shoot...unless I move way back in the vip area up high. I adjust the camera and hope for the best. I spot Kelly Taylor. "Hey Kelly...that gun article I just did on you...let's get it in Pravda. The Russians need help with their economy and they'll sell zillions of guns over here with you advertising that Dragunov sniper's rifle for them. I'll put you in front of fifty million Russians."
Kelly glares at me. "I'm patriotic Jack. Red white and blue....well...let me think about it."
Everyone must think I'm on drugs. The adrenaline's hit hours ago but I've got to keep it up because nothing's happening until Aspen takes the stage. Brittany Banks is near the railing looking ravishing.
"Brittany..I haven't talked to you since the first night. Come on and give me a big hug. Moments later we are arm in arm, but I've got business to attend to...Aspen Reign business.

All the features are standing behind the railing along with the other photographers, club owners and practically everyone else in the vip area. I think I'll shoot from Tori Blake's shoulder.
As Aspen takes the stage, I position myself to Tori's immediate left and rest my right elbow on her shoulder. "You don't mind, do you Tori." Tori face breaks into an eager grin.
"Of course not," she replies as she steadies my arm.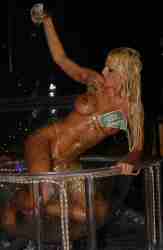 Aspen's performance is fabulous. Dressed in white she's an Angel, a stately blonde, the star of stars. Each time I see her she's better than the last time. She will become a blur of white hot frenzy, and wind up in her portable pool, a whirling dervish. She's got it all...the magnificent props, the lighting, the beautiful outfits, the raw talent, the energy and the drive. But so do some of the others....well perhaps not quite the same props or outfits, but who knows? It takes time. Right now it's Aspen Reign extravaganza time which sums up this magnificent display, this whole showcase, and all of us are lucky to be here together, cocooned off in this huge place in the Corn belt away from everybody else who is outside our little world here-- clueless about what they are missing. I'm high on Red Bull, adrenalin, the people I'm with, and what I'm trying to do with the camera which is to capture the moment for those who have missed it.