If there is a single keyword to describe what Club owners should want in feature entertainers they hire, it has to be impact. Not negative impact, but positive impact that includes a scintillating presence on the stage, a continuing presence in the club between feature shows, and a knack for getting to know other feature entertainers she might be working with, the club's house dancers, the club owner and managers, and other club personnel. We are talking raw professionalism here stemming from an attitude of putting one's best on the line at all times. After spending one and a half years, photographing contests and feature showcases, and being on the road with the entertainers, staying in the same motels with them, and getting to know them both on and off the stage,
Carrie Bare keeps coming to mind as an almost perfect example of IMPACT.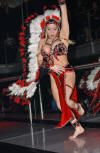 On the stage, Carrie Bare, who's a native from Wisconsin, is raw intensity. She comes out with all guns blazing. It is virtually impossible for anyone in the audience to complacently withdraw into their beers or ignore Carrie from the moment she takes the stage. She stomps angrily back and forth. Her face is demanding—she points hatefully at the audience as she pantomimes whatever character she's acting out whether it's an Indian or futuristic personage vaporizing its enemies with a ray gun. The anger subsides but she's still all over the stage putting on a fast paced display of dancing talent which can be best defined as a nearly perfect example of what feature entertainers call "the high energy style." If you want to impress someone who's never had the opportunity to see a real pro working her craft, Carrie Bare is not going to let you down. Like a high performance revolver, she delivers each and every time with magnum force.

If Carrie Bare were a male professional ballplayer, she'd be the guy hitting .300 every year, on the field a twenty first century Ty Cobb stealing bases while running over any baseman standing in his way, but off the field the tobacco chewing team leader in the locker room. We all know the type, the athlete who keeps everyone laughing at his antics and stories.



You gotta love guys like this. Well Carrie Bare doesn't chew tobacco and she doesn't hang around the dressing room anymore than she has to. If there's twenty feature entertainers at a feature showcase in a club, Carrie's one of the easiest to find. She's constantly mingling, a real spark plug who often winds up being the center of attention, but who does it effortlessly since those who have to try too hard are a pain in the derriere.
Well liked by his team mates, the ballplayer is a winner. He has the knack of getting the extra base hit at the right moment and winds up winning the game for his team. It is nearly impossible not to love Carrie Bare once you've traveled with the team for a year and a half–and I have. It's that game winning consistency that's harder to get at.


Several years ago there was the Exotic Dancer's Miss Nude Kansas Pageant, an event in which Carrie placed third. Although I got excellent pictures of both Carrie and some of the other feature entertainers, it was Carrie's that captured best the raw intensity of these professional feature entertainers who had just given their max for the spectators and for themselves. If one were to place in a museum for the next 500 years a single image in a frame that captures the unquenchable spirit of the finest feature entertainers from this single event, Carrie's picture would be the one winding up on the wall. .

Or take that time when I photographed three feature entertainers for the 2004 gun calendar. Although I always wanted her for the calendar and had discussed it with her two months before, Carrie had not at first committed to the calendar project. This day she did and I was ecstatic when Carrie joined the other features for the shoot at the last minute. It was a completely successful photo shoot with each entertainer doing an excellent job. But Carrie knew exactly how to pose. Photographing her out in the woods posing with a weapon was like a dream of photographing a model for "Playboy". And the results were awesome. She had hit the home run when I really needed a home run.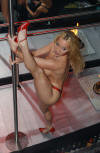 Carrie Bare delivers maximum impact all the time. If you are a club owner she's the gal you want mingling with your customers and house dancers. If you want a feature to hide in the dressing room, book somebody else. And if you have to count on a clutch performance each and every time up on that stage, she's the one to do it. After looking at hundreds of pictures I've taken of her performing, there's something I've noticed that keeps reoccurring. It's that look of intensity when she's up on the platform–which is the mark of the professional plying her craft.
A short few months after I wrote this article for "Xtreme Magazine" Exotic Dancer recognized Carrie Bare as its newcomer of the year at Caesar's Palace in Las Vegas. Not long after, I wrote the following cover article for "Xtreme".
Carrie Bare–On the Brink
by Jack Corbett
What's next for a feature entertainer in her early twenties who's been acclaimed as 2003 Exotic Dancer's newcomer of the year, and who's earned a track record of being in the top three contestants in practically every noteworthy contest or pageant she's entered over the past couple years? For most, it's a time to regroup, count one's credits, and start resting on her laurels. But not if you are Carrie Bare, who's set a blazing trail to this lofty point of her career by the sheer force of her dancing talent, intellect, and personality. Over the past two years I've been fortunate to be able to follow Carrie's development from being in the middle of the pack of most groups of features competing at a pageant or performing at a feature showcase to being one of the top three entertainers, and finally to her peerless performance last weekend at the last Pure Talent Feature Showcase at the Ritz Cabaret in Baltimore, MD. During her last three nights exhibition of dazzling dancing talent Carrie demonstrated it's safe to predict that Carrie will from now on often be playing the role of front runner, the feature to beat. Already covering this feature showcase with my Nikon D-1 X camera, which just ended last night, I was elated when Xtreme asked me to do a front cover article on Carrie. This after all was a young woman who I can say without hesitation that I've come to admire and to respect, so much so that if anyone should ask me who are the real professionals among features, Carrie's name along with one or two others would be the first I'd mention. Today's interview was over lunch in Baltimore, MD at a restaurant overlooking Chesapeake Bay's inner harbor far from Jack's Hangover Haven in Illinois or Carrie's home in Wisconsin. Both of us were out of the Midwest in Xtreme territory out here on the East Coast about to discuss Carrie Bare on the brink
Of Superstardom



Xtreme: "Carrie, last night seemed different. You've always been one of the best performers at every event I've seen you but this time I got the feeling that you were the feature to beat. Do you feel that your being recognized as Exotic Dancer's newcomer of the year has had anything to do with this?

Carrie: "I feel that it has renewed my confidence in myself. I've been taking featuring seriously but up to then I wasn't so sure I had what it takes. Until then I feel I had not tried very hard. Now everyone will be wondering, what's next since my receiving that award so now I have to take it up a notch."
Xtreme: "So what's next?"

Carrie: "For one thing I now have someone helping me make some of my ideas come to fruition. Someone who's one of the key architects behind the Pure Talent Agency video productions."



Xtreme: "I've seen some of the latest stuff they've been working on and it's very impressive. You have a great idea person working with you now. But what kinds of things are you planning on putting into your shows in the near future?"

Carrie: "We plan on introducing video slide show info to good effect. For instance we will soon be able to project it as a background for some of my shows or use it for special effects, or relay slide show and video output anywhere we like between my shows."

"Xtreme: "I'm blown away by some of the video output I've seen already that you guys have been working on."

Carrie: "I feel that the industry is in a rut. I mean there's only so many ways that you can show a pool show or a shower scene."

Xtreme: "I couldn't agree with you more. I keep thinking at these events, okay, it's time again for the obligatory let's bring the little pool on the stage."



Carrie: "I want to work on getting the crowd as totally involved in a show as in a movie. It is no longer enough just to get naked. We want to be able to move the crowd." I feel this industry has gotten away from the artistic and erotic. It has always have and always will have sex. It's been catering to guys who more and more want to have instant gratification in our shows. We want to put Las Vegas into my shows."

Xtreme: "Have you had a breast job?"

Carrie: "Yes. But I don't have butt implants contrary to all of the rumors about my butt. I'm thinking about being a little different though. I feel that club owners are getting a little tired of the same blonde blue eyed look so I'm thinking of changing my hair color just to be a little different."

Xtreme: "Are you a natural blonde."
Carrie: "This is my natural color. Yes. I'm just kidding about changing my hair color though."

Xtreme: "What do you plan on doing after featuring?"

Carrie: "I am willing to stay in it as long as my body handles it. I am willing to stay in it for ten more years because I feel I've found my niche. I always felt I had all these odd talents. I just didn't know what they were good for."



Xtreme: "Such as?"

Carrie: "Singing and dancing for one thing. I might want to incorporate singing into my shows. I feel that when we are up on stage that we are kind of voiceless. I might want to put on a headset that is tied into the audio so that I can communicate with the crowd. I just hope I never take myself too seriously. I get that sense from some features. Some people might take me as being vulgar, but I'm just home grown from Wisconsin. I'm just a small town farm girl who used to sneak previews from my uncle's porno magazines."

Xtreme: "I keep hearing you say, "But I can dance", and not just today but on many other days as well. Which you do very well by the way. Do you feel this ability can help take you over the top?"

Carrie: "I feel it takes constant moving to keep interest up. If a girl keeps moving it keeps everyone's eyes upon her."

Xtreme: "Where did you learn to dance?"



Carrie: "Actually I've had very little professional schooling in it. But it's always been a driving force in me. I pick up on choreography well. As long as I can count to 8."



It is a huge mistake to dismiss women such as Carrie as a bunch of empty headed bimbos. It is primarily from them that the greatest innovations in the adult industry are going to come. Carrie is correct in feeling that in many ways the adult industry has become complacent with both entertainers and their shows copycatting each other and that titillation rather than good entertainment has too often become their main focus. But there is a growing force for change that will soon start taking the adult entertainment industry to new levels, levels which the ordinary man or woman on the street cannot even begin to imagine. My prediction is that Carrie along with the very best and brightest feature entertainers on the circuit will be heading the spear that will soon be revolutionizing this industry. Carrie Bare is truly not just on the brink of future superstardom for herself but quite possibly one of a small core of very talented and far sighted innovators who are on the brink of leading the industry to both new challenges and heights which even the true artists and connoisseurs of great entertainment and accomplishment in the mainstream can look at and say, "Now that performance was really breathtaking."