Meet Heaven and you surely will if you ever hang around our Lost Angels chats (now discontinued) long enough. Heaven is much more than a pretty face. Which is why we've made her our entertainer of the year. Now that's one way to catch her...just hop on your computer and go online into the Lost Angels chats. Or you can watch her perform on the stage at Stimmelators in North Webster, Indiana.
Heaven.....the mere name conjures up the image of a dancer who picked Heaven up for her stage name just to attract attention. And that would just be the start of things, making up a long list of fabrications to complete the facade or the fantasy of a performer who claims to be more than she really is.
There is only one Heaven and you are looking at her. It is her real name. Any other woman using Heaven for a nickname, pseudonym, stage name, etc. is only a pale imitation of the real thing. Don't believe it? Then reconsider.
Heaven is online, has been online for over a year and a half on the World Wide Web using her own computer at her home. How many pictures have you seen of girls working in clubs with e-mail addresses? Most of them have e-mail addresses on friends' computers or were once online-----probably until that freebie AOL account ran out of hours. Heaven has worked in several clubs in northern Indiana, changing her residence several times but each time she established a new internet provider and got back online. The word procrastination does not exist in Heaven's vocabulary.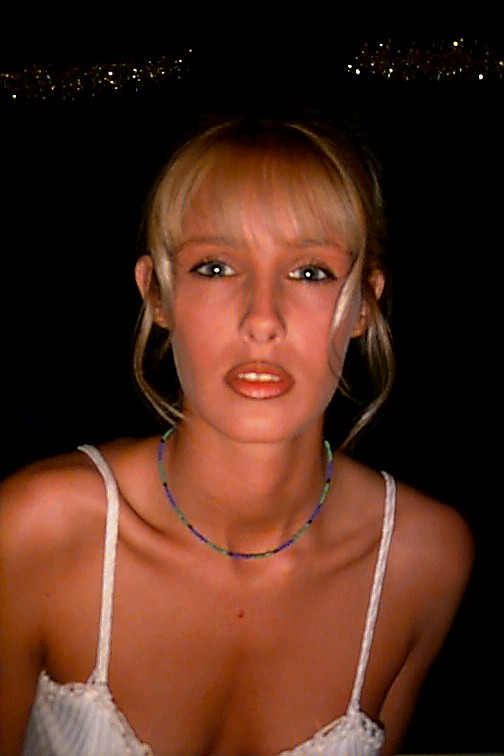 She's aggressive. Before she had a computer she moved to Fort Wayne, Indiana and started working in a new club. Within three weeks she convinced one of her new managers to move his home computer into his club office so that she and her friends could chat in the Lost Angels forum. Then she got the new manager involved. But that wasn't enough for Heaven. Once she got the new club online, she'd call Jack long distance at Dollies to make sure he got Dollies online.
Before we even met Heaven "Strip Club Scene" did a photo shoot of a number of the Stimmelators dancers. Somehow Heaven managed to get herself into at least a third of the pictures while the rest of the girls had to satisfy themselves with one or two. We didn't know Heaven then so we figured she had to be almost obnoxiously aggressive. Now we know better since we've come to appreciate Heaven as a woman of grace and poise who puts her best foot forward and as having an uncanny knack of being at the right place at the right time.
Woman of grace and poise? Usually, but Heaven's a prankster, who often likes to play practical jokes on whoever is handy. She'll come into the Lost Angels Forum and post under fictitious handles. Sometimes she will pretend she's lonely or angry. Key words here are pretend and the people who have gotten to know Heaven in the group know she's kidding. She's cool as a cucumber.
And it doesn't matter if you are a guy or a woman. Come into the chats as a newcomer and Heaven greets you with a warm welcoming. But come in as a phony or someone who wants to cyber and she will nail you to the wall.
We've seen a lot of women come and go in the Lost Angels group. Heaven has been the most consistent and been there the longest. Some of the women we've come to love dearly. But many have shown as time goes on some glaring faults. Selfishness or wanting to be the only center of attention brings to mind two prevalent characteristics. Not Heaven. The more we have come to know her the more we've come to appreciate her. With each month she reveals a new side of her and strengths of character that none of us realized before.
She's a poet and a damn good one at that. But unlike girls who claim they have poetry tucked somewhere at home, which they never reveal, being all talk, Heaven has been publishing her poetry in the Lost Angels forum which is perused all over the world.
There's a lot of pretty girls out there with their pictures scattered all over the Internet. And there's a lot of celluloid and plastic too. But Heaven is another matter. And we should know since she's been a friend of all of ours for over a year and half.
That's why she's the Alpha Productions entertainer of the year. More than that she's the woman of the year. She's going to be at Las Vegas representing our booth at the 1998 Expo, a three day convention for club owners across the U.S. Other booths will have several or more entertainers. But they don't have Heaven by their side. We do.