The AK-47–world's most prolific and reliable assault rifle
by Jack Corbett

Superstar feature entertainer Jada Deville, poses almost nude for Jack Corbett's gun article on the AK 47, the most prolific assault rifle the world has ever seen. In a strip club, no less--at Big Louie's gentlemen's Club in Fort Leonard Wood, Missouri. When Jada came onto the topless club's stage armed with the AK 47 the entire room went silent.

In some ways feature entertainer Jada Deville and the reliable AK-47 assault rifle go well together. As a feature entertainer, Jada Deville is nearly as well known in the adult entertainment industry as the AK-47 is among gun aficionados. But after that the similarities end. Whereas Jada is utterly gorgeous, the AK-47 is downright ugly. Nevertheless, the AK-47 has equipped more than fifty armies during the later half of the twentieth century making it the most prolific rifle in modern History, a weapon that is commonly identified with the countries of the former Soviet bloc, the revolutionary left wing, and whether deserved or not, the drug dealer. How did this evolutionary weapon evolve and just how good is it?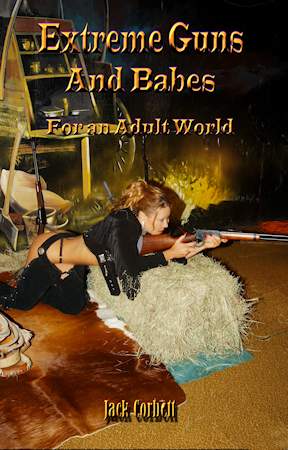 The best gun book of its kind is now available at Amazon.com in

Kindle, full color and black and white with close to 115 pictures.
This is the real deal. No other guns and babes production of any
kind can approach what you are getting here.