One hundred feet from the fenced in swimming pool a man operated a handmade mini crane on the top of which he had mounted a video camera/ With this setup he could get above the crowd to get video footage of over 100 completely nude entertainers performing on the large outdoor stage within the swimming pool area, dancing on mini stages on the extreme edges of the pool with each one having its own pole, or cavorting around both in and out of the water. The min crane operator had paid his $50.00 admission fee along with nearly 5,000 other spectators to Ponderosa Sun Club's Nudes-A-Poppin nude beauty and dancing contest during which several dozen trophies and titles would be earned by the contestants. The bigger titles will be some of the most coveted ever earned in the winning entertainers careers. Hundreds of spectators had brought their cameras in the hopes of getting decent shots of their favorite girls from outside the fenced in area. The mere fact that someone would go through the trouble to build a mini crane to get video footage is an unforgettable graphical image of how much the spectators lusted for the chance to shoot the girls at close range either around the pool or on the stage. But this privilege belonged to a very select chosen few. I was one of the lucky ones to be within this inner circle. (Note...to find out more about how Ponderosa Sun Club and Nudes-A-Poppin started and evolved into what they are today please check my August 2003 or September 2002 articles in the "Looking Glass's back issues)

The contestants are from everywhere, from as far away as California, although more than half are from the Midwest. It all starts on Saturday morning in the registration building two hundred yards from the pool. It immediately becomes very clear that the owners of the Ponderosa Sun Club are very serious about how they are running their Nudes-A-Poppin business. Each entertainer who will compete signs in at a long table just inside the entrance to the registration building. Although there will be nearly a dozen male dancers, most of the entertainers are female. All must provide proof of age in this first step of the registration process in which each contestant is photographed along with her ID with a Polaroid camera. She then signs her first release which is attached to photo copies of both herself and her ID.

After getting her number which she will wear for the duration of the competitions, she moves onto a second long table where she sits with other entertainers. Here she has stacked in front of her perhaps a half a dozen releases for magazines who are represented by their photographers. My name badge identifies me with "Exotic Dancer", but my t shirt reads "The Looking Glass Magazine". I will get exposure for both the contestants and the event in both magazines, but I'm using the Alpha Productions release with its faint watermark of the Alpha wolf. After signing all the releases the contestant moves each to each magazine's photographer/photographers in turn. First stop is with Vernon, who shoots for "Easy Rider Magazine", who takes the girl's picture as she holds out her number and the release she has just signed for "Easy Rider". She then moves onto me and then it's to the "Cheri Magazine" photographers and finally "Club Magazine".

One of the girl's ancestry is obviously Japanese. So I tell her how highly I regard Japanese women. Later one of the contestants tells me she's originally from Thailand. I'm captivated because not only is Scarlett from Thailand–she's also a stunner , so I just have to tell her how I'm going to Thailand in October, this time for a

month instead of the paltry 12 days I spent there in May. The Lumberyard Club from Des Moines has brought 23 girls and over half of them know me so naturally I do a lot of kidding around with them. By the time the last entertainer had signed her releases that Saturday morning I'm sure every other photographer in the place, not to mention the people running the event had just about had enough of me slowing up the whole process which until I had come along had run with German like speed and efficiency .

They need to pass a law against guys like me having so much fun. Come to think of it, it's really hard to think
of anyone anywhere near my age who has as much fun as I do. I've shot a lot of Pure Talent Agency Feature Showcases. These go for four nights and are held all over the country. The feature entertainers and I stay in the same hotels and often go to lunch together. Sometimes I will have one of the participating features as my roommate. And I've written a lot of magazine articles about feature entertainers.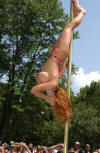 Both Natasha Stone and Lollytopps, who both book with Pure Talent are staying at my motel during the Nudes-A-Poppin pageant. And I've written magazine articles about Kloey Love and L.A. LaMann, one of the M.C.'s for this event. Paine and Pleasure, from Columbus, Ohio have roomed with me, gotten involved in S.P.E.W. wrestling, partied with me at the Exotic Dancer Expo, and competed for the M.S. Texas Pageant which I had been hired to shoot. And the Lumberyard, with its 23 girls here at Ponderosa had teamed up with Big Daddys Cabaret in Missouri to form S.P.E.W. Since I'm one of the photographers for S.P.E.W. and its web site designer I had traveled with the Lumberyard entertainer-wrestlers, so I had gotten to feel pretty close to some of them as well.

It was time for the fun and games to begin. First were the group pictures. Both "Cheri" and "Club Magazine"

had brought halter top t shirts for all the entertainers who modeled them for the photographers. The girls gave us both front and rear shots. This gave us photographers ample opportunity to closely scrutinize the anatomical details for over fifty entertainer's private parts in record making time.

Someone asked me: "That's what you ought to do, Jack. Get "Looking Glass" t shirts for all the girls and have them all pose just for the "Looking Glass". Which is not a bad idea but I'd rather save the money for my next Thailand trip. . But I had brought "Looking Glass" t shirts for Mike Skymaster, my roommate and for Paine and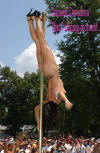 Pleasure, Damien Davidson, and Lollytopps.

After doing the group shots, the girls were instructed to pose on the swing set or race each other with one girl on each team bracing her hands against the ground while her partner lifted her up by her legs before wheel-barrowing her to the finish line of photographers standing next to each other recording it all for posterity.

By 2 p.m. We all called it a day. Ponderosa would once again revert to a full time nudist club and all picture taking would stop. Mike and I decided that we were starving so we headed to a fuel stop next to our motel. After filling up with Arby's beef sandwiches we headed back to the room where we were soon joined by two entertainers from Missouri who had shared a room next to ours last year. We had all gone skinny dipping together on Saturday night last year in Ponderosa's 120 foot long pool. Which is no great accomplishment considering that swim suits are not an option and that Ponderosa's security will kick anyone out of the pool area who so much as attempts to get into the water with any sort of clothing on. In the room we showed the girls slide shows on my laptop of the pictures we had just taken, then played for them online videos of S.P.E.W. wrestling from the S.P.E.W. web site.

That night there's a dance over at the Sun Club. But, my roommate and photography assistant, Mike Skymaster and I have agreed to head back to the motel by 10 p.m. no matter what happens. Even if the most gorgeous babes on earth invite us back to their RV, tent, or motel room, it's back to the motel for wind down time with a couple beers then sleep. We need to be back at the registration building by 7:30 a.m. to be on time to process the releases of the girls who waited until Sunday to show up and want to be sharp for a long afternoon's shooting in the hot sun.

The dance is held at an outdoor pavilion. There are people dancing out on the concrete floor in the nude but most of these are the nudists. I don't remember any of the entertainers showing up naked, but unlike in year's past, this time there's a good crowd of entertainers at the dance. We already know quite a few of the girls and it's easy to meet the ones we haven't met yet. We had brought in bottled beer, which was a mistake since as soon as one of the yellow t shirted Ponderosa Security men spotted us, the man politely asked to put the bottles away. But he did allow us to take our cooler over to the camping area of RV's and tents occupied by the Lumberyard crowd. There we had felt right at home since I already knew more than half of the Lumberyard girls and had become pals with Big Mike, the club GM. Over at the pavilion we had to put our beer in plastic containers.

Imagine being an adult industry professional in a setting such as this one. I am both a writer and a photographer, and I'm wearing my "Looking Glass" t shirt. I worked with every entertainer at the pavilion on her release earlier in the day, and over a third of the girls had already known me from other adult industry events I had covered, from my writing, photo shoots, etc. Several of the feature entertainers at the dance had stayed over at my apartment while doing photo shoots. This was our kind of crowd. All of us existed in the same adult entertainment world where we could relate to each other on a common ground of similar interests. There were no sides to the pavilion, just a roof, which exposed all of us to the warm night air. We had women all around us who were as fun as they were pretty, but we had to leave at 10 and said our goodbyes very reluctantly.

The next morning's work started with three or four hours in the registration building handling the releases for the newcomers. Meanwhile thousands of spectators were arriving outside the little building. The contests started at noon just as I was taking the picture of the last entertainer with the release she had just signed.

The whole atmosphere on Sunday reminds one of a county fair. Hot dogs and other fast foods are being sold at small outdoor stands. Already there's several thousand people milling around the pool area. Inside the fence that surrounds the pool, the entertainers, both the female as well as the male dancers have already assembled as the first dancers start doing their shows. Porn star MC's Ron Jeremy and L.A. LaMann are

already on the microphone along with the other M.C.'s. There are so many people here that the yellow shirted Ponderosa security have everyone parking in what appears to be a forty acre field. And who knows how many men and women are working security, thirty, fifty? Some of them are riding around in golf carts. Others are watching the gate to the swimming pool to make sure that only the contestants, industry professionals, boyfriends of some of the entertainers, and others who need to be in the inside perimeter enter this central staging area.

One hundred feet outside the enclosed pool area there's a crowd of several hundred spectators watching a wet t-shirt contest, but I pay little attention to that since I'm at the main event and within the inner circle practically all the spectators would be willing to die for to be in right now.

And inside this fenced in area, it's a virtual turkey shoot. Finding models, either one at a time or in groups of girls is like going hunting in a zoo. I plan on shooting them on the long rectangular stage, lying or standing about the pool, or in the arms of my assistant and pal, Mike Skymaster, but I have a special area for a chosen few, and that's posing in one of two little waterfalls formed from a pile of attractive large stones down which rivulets of water flow from mostly obscured garden hoses. Small water filled pools have formed below the small waterfalls. It is here that I want to take some of the entertainers.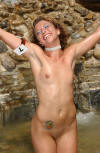 One of the first girls I ask to go with me to one of the waterfalls is Paradise, a sprightly and very cute dancer from the Lumberyard. Paradise has wrestled in at least four S.P.E.W. events. She has driven with the other Lumberyard wrestlers 420 miles one way from Des Moines to Big Daddys Cabaret to wrestle the Missouri girls on two occasions. So right there, Paradise is very special since she's proven herself to be willing to go to extreme measures to put herself out in the limelight of the adult entertainment world. And just two weeks before, she had sought me out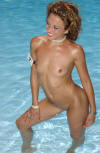 while I was taking pictures at the last S.P.E.W. event at Big Daddys and had asked me to spend extra time with her getting good pictures. And I had, taking pictures of her on my Miata sports cars, posing in front of the mirrors inside the club and even with a 50 pound Bengal tiger. Paradise eagerly accepted my invitation to go with me over to the waterfalls, like a Sophomore High School girl who was just asked to go to the Prom, and pranced down to the twin rock piles beaming from ear to ear. (I knew I had a little star with me, she just didn't know it yet). One of the next models I chose to take down to the waterfalls was Pleasure, as in Pleasure and Paine. Now those two are a story unto themselves. Paine is Pleasure's mother. The two travel together, and often perform on the stage as a duo act. Because they are mother and daughter, they are completely misunderstood, even by many adult industry professionals who view a mother-daughter act as sick or perverted. "What are they up to, doing each other?" I've been asked.

But I know them very well and am sure that the opposite is true. There are no finer women on the stage today than Paine and Pleasure, who set a high standard that few of their peers can even begin to match.

Pleasure's a blonde goddess. If there is such a thing as perfection in the female body form Pleasure's it. But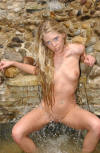 Pleasure's not as outgoing as her mother so she's often overlooked. She's warm and approachable, but she's not one of these in your face, "Hi, my name is Pleasure and I am....." kind of girls many dancers are, and who can blame them for wanting to get ahead? But once Pleasure starts posing on the top of the rock pile, other photographers converge on the area out of nowhere like maggots crawling out from underneath a log. "Man, where's she been hiding?" I hear one of them ask in an awed voice.

Both girls, Pleasure and Paradise, are very young, not even old enough to legally drink. But for me they represent the future of this profession, both of them in their own way, best of the breed. Another girl I really want to pose for me is Scarlett the girl from Thailand. Thai girls send me, and not just me, every man in our group who was with me in Thailand last May fell in love with Thai women. The girl I met here at Nudes-A-Poppin in the sign up building is a stunner, a beauty worthy of representing Thai womanhood. So I invite her to walk with me down to the waterfalls. I have chosen wisely for she doesn't disappoint except she calls me a "Dirty old man" for no reason at all.

But if you watched me hanging around all these nude entertainers here at Nudes-A-Poppin, you might call me that because I'm putting my heads in their laps as they sit around the pool, or upon their naked breasts. And some of them I end up carrying around in my arms. But much of the time it's the girls who instigate such behavior. One of the feature entertainers keeps coming up behind me to goose me. One of the new Lumberyard girls, proud of her new breast job, keeps sticking her large breasts in my face. We are all having fun together here and that's what counts.



While I'm taking pictures of girls at the waterfalls, the entertainment goes on fifty yards away at the large outdoor stage. There's competitions for various categories....go-go or for Miss Rising Star or for male dancers only and for male dancers performing with female entertainers. The entertainers perform in groups, but sometimes a single entertainer puts on a single performance complete with props up alone on the stage.

Ron Jeremy is once again doing a great job as one of the M.C.'s. At times crude, Ron has a way of putting his co-MC's in the limelight while giving them plenty of credit while taking a back seat to some of the better known feature entertainers. And L.A. LaMann—well what can I say about her other than to use such adjectives as terrific and off the wall. She bills herself as the bad girl of the entertainment circuit and is known for giving the finger to just about everyone in range of her antics. But don't tell anybody that you've heard it here–L.A. is a real lady with a soft heart beneath the bad girl exterior and I should know after doing that front cover article of her for Xtreme Magazine.

Both Damien Davidson and Lollytopps look fabulous out there doing the pole on the outdoor stage. But so does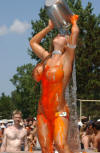 Kelly Taylor. All three of them are models on our Xtreme Weapons calendar. I'd say nobody does the pole better than Lollytopps, but afterwards she admits to me: "I've been studying her and I still haven't figured out how Kelly does that pole trick." Nobody has that I know because somehow Kelly has figured out how to slowly rotate around that pole, then stop, coming to a complete halt as she floats up there motionless like a butterfly above a flower.

Regan Anthony puts on a dazzling performance. If one were to generalize and say that feature entertainers are much more difficult to photograph on stage than house dancers since they are so quick–so kaleidoscopic in their fast movements that only the quickest cameras and photographers can even begin to capture them at the right moment, it must be Regan one is thinking of. She's a ball of fiery energy who sets a frenetic hyper pace few can follow–a performer who always gives 110 percent.

There are ten judges seated in front of the long stage. And they have their work more than cut out for themselves. There are so many categories the judges have to evaluate. There are a couple of dozen trophies or more. These are not professional judges for they have been randomly picked from the crowd of spectators. The judging will be as scrupulously fair as it gets here at Nudes-A-Poppin.

Which is one of the many reasons why garnering a first place trophy in nearly any category is esteemed so highly. There are excellent entertainers I know very well who will not even manage a fifth or tenth place finish, who will wind up going home empty handed, yet who are successful at getting bookings on the feature circuit.

For the house dancers, those who are not professionals.....not being feature entertainers that is, the most highly prized trophy is Nudes-A-Poppin's Miss Nude Galaxy. The trophy like several of the other most prestigious trophies must be about seven feet tall. Mike Skymaster and I look on as the M.C. calls one entertainer after the other up onto the stage. Ten dancers will get a trophy starting with 10th place and working up to the grand prize, the most coveted of them all for Miss Nude Galaxy.

How can I root against any of my pals here, and some of the entertainers are just that, my pals? And the girl I've got in mind is not the best dancer in this crowd. She's a nobody--someone who has not even been discovered yet. But we are talking about a beauty award here. The trophy will not go to the girl with the best body. There's the "Cheri Magazine's" award for the best natural body that covers that. Miss Nude Galaxy will go to the "It girl", the girl who's just got it. The girl who is ravishing, who radiates the essence of feminity and who can draw people both male and female like honey draws a bee.

"Who do you think should win?" I ask Mike.

"That' hard to say."

"Well, I think it should be Paradise. All day yesterday and all day today she's just been simply magnetic, full of the zest for life, smiling, joking around with everyone around her. She's imposed her presence on everyone in range of her. She is the star of stars here, unmatchable this entire weekend."

"I agree."



And when the last girl is announced, it is Paradise, who is called up on that stage—"Miss Nude Galaxy 2004". It is her time in the sun, and hopefully she will grasp what is hers if she wants it badly enough—to become one of the finest attractions on the adult entertainment horizon, and not fall prey to all the snakes waiting to exploit her. "Paradise, do not change a thing."
Virtually the same age as Paradise is Pleasure. And whereas Paradise is like a sweet breath of fresh air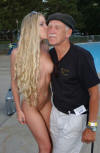 constantly hovering around the crowd that becomes part of the very environment itself, Pleasure is more subdued. But if Michelangelo were alive today, he would sculpt someone just like Pleasure. And unknown to everyone reading this article, it would be Pleasure or that wonderful female photographer for "Cheri Magazine" I'd choose to be marooned on a desert island with—that is if I had to be marooned. The reason is simple. On that island there would be coconut trees and it would be either me or the girl who would be shimmying up those trees for dinner or wading around in the ocean for crabs. Most of the entertainers here would be calling out: "Jack, go get us some dinner." But I know that photographer works her butt off every time I'm around her and has a heart as soft as melted ice cream. And I know Pleasure's as soft hearted as the girl who works for "Cheri".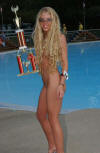 Pleasure's simply not hit her stride yet, but she winds up winning first place for Miss Nude Petit North America. But it's Regan Anthony who wins "Entertainer of the Year", and the seven foot

trophy for this VERY prestigious category. And neither Paradise nor Pleasure, as beautiful as they are, can begin to touch Regan as an entertainer, but their careers are just starting. The sky is the limit for both girls. Regan's just hitting her stride. And it will be Regan who will be the next cover girl for my alphapro.com web site so stay tuned for some stunning pictures of Regan, who is one of my favorite feature entertainers on the circuit.

One of the hugest stars in Ponderosa's History is literally that...huge. Wearing a quadruple X t shirt, Big Mike towers over most men. Big Mike is the General Manager at the Lumberyard which has brought twenty-three dancers to Nudes-A-Poppin. Hey...we are talking about Des Moines, Iowa here, not Las Vegas or New York City, and there is not one of you club owners or managers out there from either place who has become nearly as well known as Big Mike who's taken a club out from virtual obscurity from cow patch city to being one of the best known on the North American continent.

There's a large trophy for the club that's brought the most girls, and it's Big Mike who is announced before 5,000 people as the man who's done it for his club. Some of you club owners out there who think you are doing a successful job of marketing your club should wake up and realize what this man has done, and is continuing to do everyday, but that's a story for next month's "Looking Glass" in our coming exclusive interview of Big Mike, the architect behind "The Lumberyard's" climb to fame.

When you see video footage on television of large groups of naked women wearing numbers outdoors, chances are you are seeing bits and pieces of Nudes-A-Poppins annual nude beauty pageants. Both last year and the year before I had right at 90 contestants both male and female sign my releases. This year over 100 women competed, 25 % more than last year. If you are an entertainer, and I don't care if you are a house dancer or a feature entertainer. I urge you to participate in next year's Nudes-A-Poppin pageant. Not only is it the most prestigious event of its kind, it is also incredibly well managed and run. But at the same time it's so laid back and relaxing, thus representing an unprecedented opportunity to get together with your adult industry friends both new and old. And next year is destined to be the best yet since not only will everything be present that has made this such a great event, S.P.E.W. Wrestling will for the first time put its delectable female wrestlers into the big ring on Saturday here at Nudes. So look for Nudes-A-Poppin to get a great jump start that will put everyone in high gear right from the get go.