When Tiger Wayne

brought Smokey, a white tiger, into Club 64, the strippers went crazy over the adorable tiger cub.
Some envy Tiger Wayne, others wish they could have his job, and if women don't always fall for him, they nearly always wind up adoring his cats. Tiger Wayne has shown over 150 large cats throughout the years--nearly everything from white tigers, Bengals, Siberians, lions, jaguars, cheetahs, black leopards, lynx's and pumas. While nearly everyone's fascinated by his animals, most of us know very little about nature's most terrifying killing machines which are ironically some of the most elusive and least understood predators in the wild. Through the past few months photo journalist Jack Corbett takes pictures of three of Tiger Wayne's tigers with some of the entertainers he meets, then winds up getting this exclusive interview with the loquacious yet fascinating man who dares to do things very few men would ever risk doing.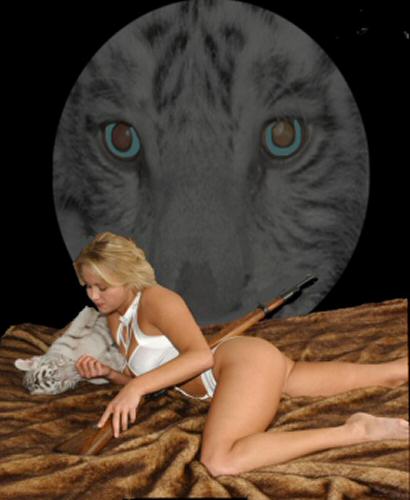 We specialize in exotic photography for Feature entertainers, dancers aspiring to become features, and gentlemens clubs.