At Dollies Playhouse Strip Club, Crazy Czech, the godfather of Dollies Trendy Toilet Sex kissing stripper's butt. Crazy Czech would later disappear for years only to reemerge after spending years working in Saudi Arabia and writing two novels about his experiences. Amazingly he lived to tell about it.
"I know CC. too well. We hung out together in strip clubs all over the country. The guy is irrepressible. He has no clue on when to stop. He's out of control and while he was in Indiana Heaven and the other strippers from Stimmelators were about to lynch him. I'm really surprised the Arabs didn't kill him while he was working in the Mideast."



Jack Corbett
Some have called him a madman while others have called him one of the greatest innovators in adult entertainment. But no man or woman who's been around the Crazy Czech for very long has ever forgotten him.
In real life an engineer from Indiana, Crazy Czech really did cavort from strip club to strip club in the Saint Louis Metro East with half of his face painted blue, the other half red. Until now, his latest claim to fame was his antics at the Dollies Playhouse Strip Club in Washington Park, Illinois where he introduced Dollies Trendy Toilet Sex. Even Jack Corbett felt C.C. was crazy feeling he was completely demented for even thinking of such a thing, let alone approaching Hawk, the club's general manager with such an insane idea.
But Hawk loved the idea. Jack bought a nun's outfit at a St. Louis costume shop, then with the help of the irrepressible Crazy Czech he was able to convince an attractive 21 year old stripper calling herself Alabama to do the first Dollies Trendy Toilet Sex episode. Jack then put the digital pictures in the Lost Angels chat room on his web site, and the weekly Dollies Trendy Toilet Sex series was born.
The story line behind the first episode was Sister Margarita, played by Alabama wearing a nun's frock was out drinking and driving one night in one of the car's belonging to the convent. But when she got close to East St. Louis she was suddenly overcome by the need to defecate. Pulling off the interstate, she got lost, and then she saw the bright lights of the Dollies Playhouse Strip Club. The extremely tipsy nun was still not finished with her drinking however. Going inside the men's room, Sister Margarita squatted down on the toilet and then she brought a bottle of whiskey out of a brown paper bag. Then Hawk the general manager at Dollies walked in needing to take a leak. Hawk walks over to the urinal, not seeing the nun, who's watching him the whole time. He pulled out his fly, pretending to take a leak as Jack Corbett takes the pictures with his Kodak DC-40 digital camera. The story line continues with Hawk finally noticing the nun watching him urinate. Sister Margarita then invites him over to the toilet to share the bottle of whiskey with her. Hawk joins here and after a few minutes another man enters the men's toilet to brush his teeth.


Jade, who was a Dollies stripper with Crazy Czech in the C-Mowes topless club parking lot in Washington Park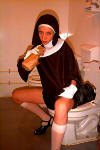 Dollies Trendy Toilet Sex the first episode
Sister Margarita on the toilet drinking her bottle of whiskey


During a later episode of Dollies Toilet Sex with customers and dancers alike in one of the Dollies Playhouse restrooms. Alabama front row in the center.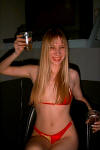 Alabama shown here not wearing her nun's habit was one of the most beautiful strippers working at the Dollies Playhouse.
Crazy Czech would go on to becoming one of the author's best friends even though he was living in Fort Wayne, Indiana over 400 miles from Jack's apartment in Collinsville, IL. Jack and CC would have a number of outings together meeting several times at Stimmelators in North Webster, Indiana, in the Saint Louis Metro East where they continued to carouse from club to club together, in the Fort Wayne clubs, and finally in New Britain, Connecticut. Ironically CC. wound up living in an apartment in New Britain that was within one hundred yards of Xtreme Magazine, which Jack was writing for later on. It was while visiting his editor that Jack found out CC.'s apartment was a stone's throw from the Magazine. Once again the two paired up to continue their antics in Hartford and New Britain where CC. tried to pass himself off as the famed movie actor John Malkovich.
Then suddenly Crazy Czech disappeared. He stopped coming to the Lost Angels chat room. He could no longer be reached by phone. Then several years later he reappeared and told his old friends that he had been working in Saudi Arabia. In the meantime he wrote two books about his experiences there in two novels, King of Bat'ha, Destroyer of Evil Hashim and Tales from the East:Return of Ivanhoe/Toilet Jinni Unflushed Jack has promised CC. that he will soon buy his second book to read on his Kindle. In the meantime after reading the King of Batha novel he was incredulous that Crazy Czech lived to tell about his encounters in the Mideast that provided him with the background for his two books.