With a projected range of 310 miles and possibly with Toyota beginning production in 2015 I want to know.
1. Why is it taking so long to do this?
2. Why as the article below suggests is getting enough refueling stations across the U.S. such a problem?
3. How long will prohibitive high costs to manufacture such a car going to pose a problem given the economies of scale that will be realized once full mass production is underway?
4. Does this means that all those conspiracy theorists who've always blamed the oil companies were right all along?
5. Does this mean that with the U.S. becoming increasing independent of foreign oil due to domestic fracking and other new technologies and now THIS, that we no longer need to have such good friends as Saudi Arabia?
6. Does all this mean that if we no longer need Saudi Arabia we are now free to get along much better with Iran?
I copied this from the New York Times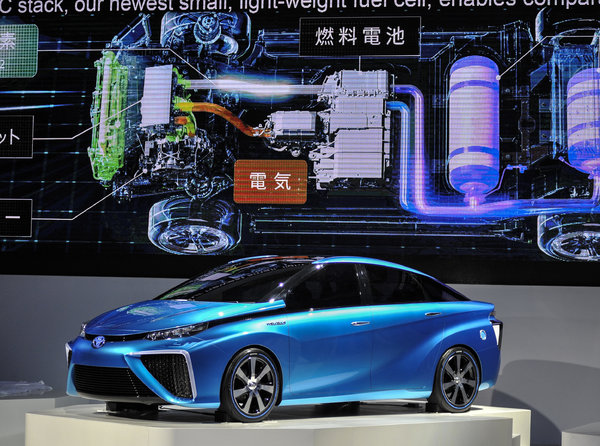 Toyota's FCV concept vehicle at the Tokyo Motor Show. The company plans to sell a car based on the FCV "around 2015."
By ERIC PFANNER
Published: November 20, 2013
Facebook
Twitter
Google+
Save
E-mail
Share
Print
Reprints
TOKYO — Hydrogen-powered cars are finally being readied for their Prius moment — at least, that is what promoters of the environmentally friendly technology hope.
Add to Portfolio
Toyota Motor Corporation
Honda Motor Co Ltd
Go to your Portfolio »
Enlarge This Image
Toru Hanai/Reuters
Carlos Ghosn, chief executive of Nissan, with his company's BladeGlider EV concept car.
Toyota, maker of the Prius, the first hybrid vehicle to achieve mass-market acceptance, on Wednesday unveiled a concept version of a hydrogen fuel-cell car that it plans to begin selling "around 2015," as the company put it. The bright blue sedan is shaped like a drop of water to emphasize that water is the only substance that hydrogen-powered cars emit from their tailpipes.
The car, which Toyota calls the FCV concept, was one of several vehicles with alternative powertrains to take the spotlight at the Tokyo Motor Show, which opened to reporters on Wednesday. Later in the day, two other carmakers, Honda and Hyundai, were expected to display new fuel-cell vehicles at a preview for the auto show in Los Angeles.
Honda was set to introduce a concept version of a new car it plans to introduce in 2015. Hyundai, which is based in South Korea, says it intended to beat both of its Japanese rivals to market next year with a hydrogen-powered vehicle based on its Tucson sport utility vehicle.
In July, Honda and General Motors announced that they agreed to share fuel-cell technology.
For years, automakers have talked about the potential of hydrogen power to help them reduce harmful greenhouse gas pollution and meet strict emissions standards in places like California. But there is a joke in the industry that "fuel-cell technology is always five years down the road," said Alan Baum of Baum & Associates, an auto industry analyst in West Bloomfield, Mich.
Fuel-cell cars, which create the electricity that powers them by combining hydrogen with the oxygen in the atmosphere, have been held back by a variety of factors, including the high cost and a dearth of hydrogen filling stations. Although a handful of fuel-cell test cars and fleet vehicles are on the road, the new models from Honda, Hyundai and Toyota are expected to be among the first hydrogen-powered cars available to the public.
"Everybody has been putting their toe in the water, but Toyota putting its toe in the water is a bit more significant," Mr. Baum said.
Toyota executives noted that hybrid technology faced considerable skepticism until the Prius was introduced in 1997 in Japan and in 2000 in the United States, where it quickly became a must-have accessory for Hollywood stars and Internet entrepreneurs. Now that Toyota, the biggest carmaker in the world, is signaling its commitment to fuel-cell technology, the infrastructure will follow, they hope.
"One of the reasons we are doing this is to send a message," said Satoshi Ogiso, deputy chief officer in Toyota's product planning group.
Fuel-cell cars will give greater choice to consumers who are seeking engines that are easier on the environment, creating a potential rivalry with battery-powered electric vehicles. Despite the popularity of electric cars from Tesla Motors in California, fully electric cars remain a niche market. Through October, 78,000 were sold in the United States, according to Baum & Associates, compared with 423,000 hybrids. Only about 1,000 fuel cell cars are expected to be sold worldwide in 2015, according to Navigant Research, which provides market analysis for so-called clean technology.
Toyota has not provided estimates of sales for its fuel-cell car, though executives acknowledge privately that the numbers will be modest to start and that sales will be concentrated in places like California and Scandinavia, where emissions targets are strictest. Toyota, while embracing hybrid powertrains, has favored fuel-cell technology over fully electric cars, saying the experience of driving them is more like what consumers are used to with gasoline- or diesel-powered vehicles. The company says its new car will be able to cover about 500 kilometers, or 310 miles, on a single hydrogen fill-up that takes just a few minutes. Fully electric vehicles require lengthy recharging time.
Other carmakers are hedging their bets. Although many of the big players have fuel-cell projects underway, either alone or with partners, some also continue to promote electric vehicles. Battery recharging stations are more widespread than hydrogen filling stations.
And fuel cells are not as clean as they might seem, detractors say, because the production of hydrogen releases greenhouse gases. But then, most electricity generation also uses carbon-based fuels.
"It's still difficult to choose a winner at this point, which is why the automakers are diversifying their portfolios," said Thilo Koslowski, an analyst at Gartner, a research company.
At the Tokyo show, another Japanese automaker, Nissan, displayed an electric concept car called BladeGlider, which looks like a cross between a Batmobile and a stealth fighter. It has a single seat in front for the driver and two in back, and the doors open at a rakish, upward-slanting angle.
Carlos Ghosn, Nissan's chief executive, said car designers had greater styling freedom with electric cars, because the motors are smaller. In the BladeGlider, they are built into the rear wheels, allowing the front end, which houses the motor in most conventional cars, to taper to a point.
"We are promoting electric cars because we believe in the potential of electric cars," Mr. Ghosn said.
Toyota executives say the FCV concept is close in appearance to the expected production version of the car. It has a large grille and other openings to allow cooling air and oxygen.
The company has not announced a price, but Mr. Ogiso said the car would be aimed at a niche of environmentally conscious, early adopting and relatively affluent customers — much like Toyota's pioneering hybrid car.
"We have learned a lot from Prius," Mr. Ogiso said.
This article has been revised to reflect the following correction:
Correction: November 21, 2013
An earlier version of a picture caption with this article misstated the power source of the BladeGlider EV concept car. It is a battery-powered electric car; it is not powered by hydrogen.
This article has been revised to reflect the following correction:
Correction: November 22, 2013
An earlier version of this article provided an incorrect time frame for sales figures from Baum & Associates. The data, relating to sales of hybrid and electric cars in the United States, are for the year 2013 through October, not September.